Silicon Connection offers a complete line of high purity, corrosive-resistant Fluid Handling products from Entegris.
Entegris is a leading materials integrity management company providing high performance, fully characterized fluid management solutions for use in ultra pure and corrosive chemical applications worldwide.
Entegris fluid handling products provide consistent and safe delivery of chemicals from chemical manufacturers to semiconductor manufacturers' point-of-use. These components are used in wide applications, such as in CDU & CMP Delivery Systems, CVB, wet process, chemical blending, and process tools hook-up.
Delivery system components include pfa tubing ranging from ¼" to 1 ½" diameter, fittings of various configurations with Flaretek, Primelock, Buttweld, Flarelock II, Integral Ferrule end connections  and valves for flow control and isolation.
Control and measurement components are pressure transducers (flow through and single port with pressure range -12psig to 150 psig ), flowmeters up to 120l/min and flow controllers up to 40l/min.
Dispense systems come with PFA dispense head with matching drum insert (both PFA and PP available) and 55 gallon HDPE drums. The dispense head and drum insert are designed with matching keycode to ensure correctness in connection. These work together to form a seamless, mistake proof system for chemical dispense.
Silicon Connection holds inventory for Entegris fittings and PFA tubings.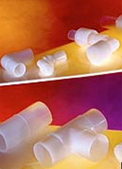 Need PFA Tubing Urgently?
 We are a major stockist of Entegris high purity PFA tubing.