Silicon Connection is the authorized distributor for Entegris Chip Trays.
Our products are designed to deliver superior protection and operational efficiency, as well as minimizing logistics and storage costs.
We offer a wide range of packaging solutions in various specifications and materials for bare die, chip scale or wafer scale packages, opto electronics and other microelectronics devices. The standard sizes includes 4″x4″ outline square trays, 2″x2″ outline square trays. Pocket sizes can be customized to provide the best fit for your devices. In addition, Entegris has the widest range of bare die trays with more than ten thousand different part numbers to choose from, not including the various accessories you may need. Accessories that goes with trays includes covers, clips and antistatic inserts.
Read here for more information or contact us should you require further details.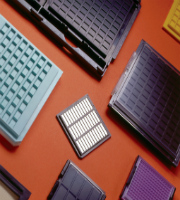 Need An Urgent Delivery?
Check out our stock list for a quick turnaround.