Our principal, NBS, provides high-quality wafer packing/ unpacking equipment that comes with a low cost of ownership. Our equipment helps to prevent damage that often results from manual handling of wafers and it also provides complete wafer traceability. NBS' tools are designed with a small footprint and are ESD (electrostatic discharge) safe.
Silicon Connection has been an exclusive sales and service partner of NBS Semiconductor in the South East Asia region since 2007.
NBS Wafer Packing WPC EVO
The latest model, WPC EVO2, quickly and safely sorts/ transfers 200mm and/or 300 mm silicon wafers between a variety of industry standard cassettes and "coin stack" horizontal wafer shippers. EVO2 automatically manages every step of the packing process including the verification of each wafer handled. With the help of sensors and camera system, EVO is capable of handling various brands and types of wafer packing materials such as conductive PE or Tyvek interleaf, HWS, FOUP, FOSB etc.
WPC EVO2 has a high wafer packing/ unpacking speed, making it a reliable solution for your automated wafer storage and shipment needs. A typical EVO2 can achieve packing speed of up to 140 WPH and a throughput of 125 WPH for unpacking.
Other NBS Equipment Features
125mm, 150mm, 200mm, 300mm automated wafer handling solutions.
SECS (SEMI Equipment Communications Standard) / GEM (Generic Model for Communications and Control of Manufacturing Equipment) standards.
SEMI S2 (Environmental Health and Safety), and SEMI S8 (Ergonomics) Compliant.
E-84 FOUP Transfers option with AMHS.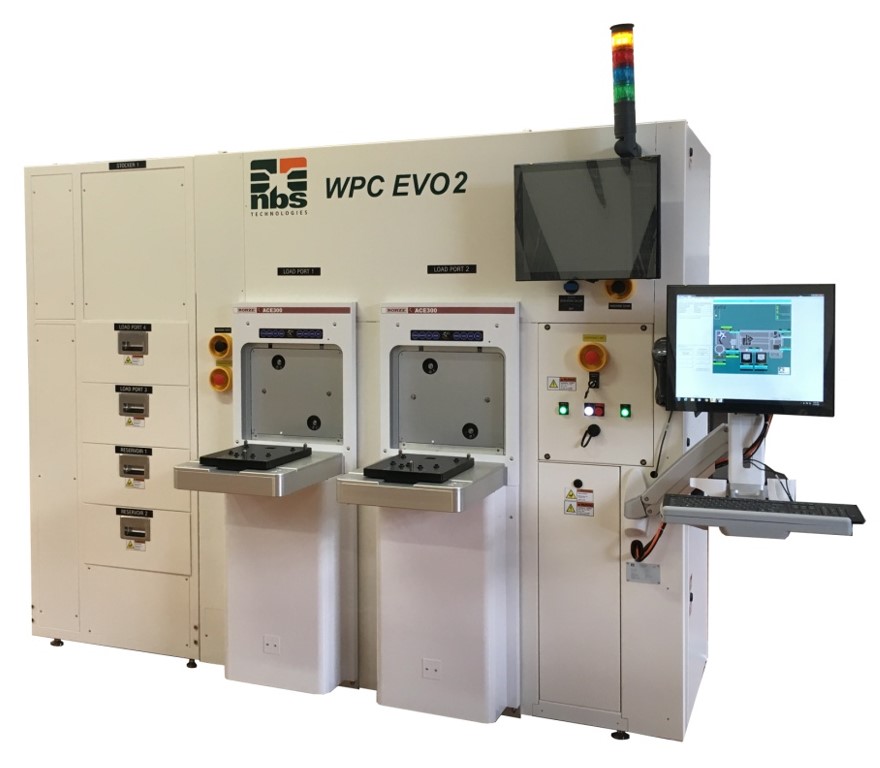 WPC EVO2
300mm/ 200mm automated wafer packing/unpacking/sorting equipment
WPC EVO2
300 mm / 200mm automated wafer packing/unpacking/sorting equipment
Besides WPC EVO2, NBS also offers many other models to cater to different customer needs.
NBS's innovative WPC EVO WRT is a Wafer Ring Transfer tool designed for customers to pack and unpack wafers mounted on wafer rings or frames. There is also an enhanced version of EVO2 called WPC EVO AUTO, that can remove the lids of HWS without any manual intervention, hence minimising operator and human errors (full HWS Automation mode).

If your facility is using smaller wafer size such as 6" or 150mm wafers, our legacy tool WPC 200 Advance will allow you to handle both 6" and 8" wafers at the same time.
Contact us for more technical specifications of NBS Equipments.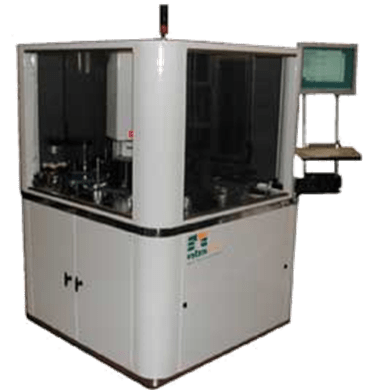 WPC 200 Advance
NBS legacy tool for packing and unpacking of 6" and 8" wafers
Dummy Wafer
We also provide quality dummy wafer to the semiconductor industry.