We supply Entegris range of Process Wafer Carriers which can be mainly subdivided into 2 major categories of applications: Process Wafer Carriers and Wafer Transport Carriers.
Entegris PFA Process Wafer Carriers are specially designed for chemicals to pass through to the wafers evenly and quickly. The carriers have minimum surface area to facilitate liquid process chemicals unobstructed access to the wafers. This will enhance automation performance in your facilities.
We offer a wide range of Entegris Process Wafer Carriers for various wafer sizes;100mm, 125mm, 150mm, 200mm and more. There are also the different specifications and profiles, and accessories such as PFA handles with Lock Bar. Silicon Connection also provides Laser Marking services on cassettes.
PFA Process Wafer Carriers is made of very high purity material. The other advantage is the material's temperature limits: up to 180°C for continuous use depending on model. As for wafer insertion temperature, the limit is even higher at around 290°C.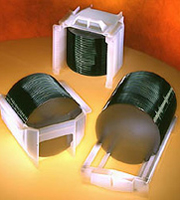 This range of wafer carriers are designed for automation in wafer fabs and backend assembly and test facilities.
For automated materials handling tools to work reliably, the wafers must be able to be transported around in highly accurate and predictable locations. Our wafer carriers allow robot arm to pick up the wafers efficiently, increasing production throughput.
The transport carriers using advanced materials such as Entegris' Stat Pro 9000, a static dissipative blend of Carbon Nanotube (CNT) enhanced polyetheretherketone (PEEK™) carbon compound, ensures dimensional stability even in very high temperature environment. It also secures and protects wafer against contamination and damage.
You can find the datasheet for 198/192 series of the 200mm transport carriers in this link.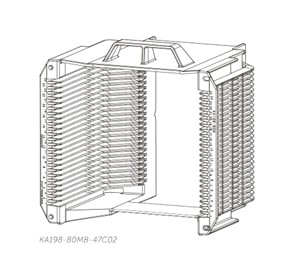 Looking for Wafer Storage Box?
We also offer customisation to tailor Entegris storage boxes to your requirements.