Silicon Connection offers Wafer Ring Frame, sometimes also known simply as Wafer Ring, Wafer Frame, or Dicing Ring in our semiconductor industry.
Wafer Ring Frames are used in applications such as back-grinding, dicing, die pick & place, wafer sorting, die shipping and other in-process wafer handling operations. A back grind tape or film is typically mounted onto the ring which then holds the wafer (diced or thinned) in place during such applications.
Stainless steel wafer ring frames are highly sought after as a safe shipping and handling material, especially for thinned wafers. They typically made from high-grade SUS 420 Stainless Steel, which are dimensionally sturdy and very durable. Every wafer ring frame is manufactured with very tight dimensional tolerance and high consistency to ensure smooth operation during automation.
We offer full range of sizes including rings designed for 6-inch, 8-inch or 12-inch wafers, and various standard frame types, used by different equipment makers.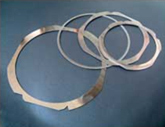 Laser marking on wafer ring frames is available upon request. Common request for laser marking includes marking of wafer id in alphanumeric format or barcode.
To provide a more complete solution, we also offer Entegris' Film Frame Shipper that is designed to provide safe storage for up to 25 wafers mounted on film frames.
Stainless steel rings can be reused. As part of our corporate sustainability initiatives, Silicon Connection is keen to explore any close loop reuse programme with customers for wafer rings, which will benefit users by further reducing the total cost of ownership.
Please do not hesitate to contact us to get a quote or to find out more details!
Looking for Wafer Storage Box?
We also offer customisation to tailor Entegris storage boxes to your requirements.