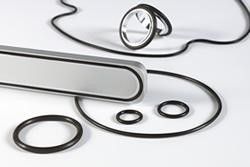 The Kimura® range of high performance elastomer materials utilize a controlled molecular architecture which provides a unique self-reinforcing polymer structure, eliminating the need for fillers of any kind. This high purity material breaks new ground in elastomer technology, developed specifically for aggressive semiconductor applications.
Key Features of Kimura ® seals include:
Exceptionally pure – does not contain any fillers which may cause particulation problems
Outstanding plasma resistance – ideal for Chlorine, Fluorine & Oxygen chemistries
Exceptionally low plasma etch rate
Low thermal expansion
Kimura® is a registered trademark of Precision Polymer Engineering Ltd.
Contact Us today for more information on Kimura® products!