Schott Light Source products focus on industrial applications for Machine Vision and Microscopy Illumination. We have an extensive offering of light sources, fiber optic light guides (both rigid and flexible), as well as customised accessories designed to meet every illumination needs.
Utilising advanced LED technology, Halogen and Xenon light sources caters for standard and customised solutions. It enables light sources to achieve different light intensity and wavelength according to individual needs of the user. Schott lighting products combine flexibility and versatility, which allows users to implement in multiple systems with smooth and simple integration.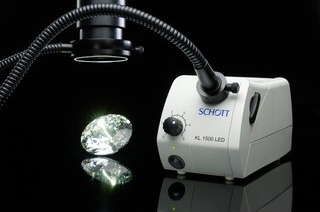 All Schott products in our extensive portfolio are specifically designed to operate seamlessly together with all its universal light guides. This makes Schott the ideal choice for Industrial inspection and Microscopy illumination.
Schott is the leader in manufacturing of fiber optic and LED solutions for industrial, machine vision, microscope and forensic applications. Schott understands your needs for high-quality, cost-effective lighting and we have creatively packaged the solutions for you. Schott's light sources are loaded with special features and specifically optimized to meet your individual requirements.
Schott fiber optic illuminators are designed to be durable and cost-effective. Fiber optic light sources are created for most machine vision, industrial, and biomedical lighting applications. These illuminators come in variety of models with different functionality, including colour filtering capability and manual iris intensity control.
Silicon Connection is the exclusive distributor of Schott Light Source products in South East Asia region. We also provide repair, service and maintenance of equipment from the authorised factory.
Read here to find out more about Schott.
Contact us for any enquiries on Schott lighting series.
Schott Brochures
Check out available brochures of all Schott Lighting and Imaging Products.