Silicon Connection is the appointed distributor of Gel-Pak Membrane Boxes. We have been serving the semiconductor industry since 2000.
Gel-Pak Membrane Boxes are used for shipping or storing devices or objects that are irregular in shape, as 3-dimensional surfaces do not adhere to Gel material of other Gel-Pak storage products.
Membrane boxes are commonly used by engineers or researchers in the industry for shipping objects such as Optics, Prisms, Lenses, Crystals, and Test Sockets.
Membrane Boxes are made of thin, highly elastic transparent polyether polyurethane membrane mounted to the top and bottom halves of a POLYREX® PG-33 clear polystyrene box.
When the membrane box is closed, the device or object is suspended between the two transparent membranes. The membranes will conform to the shape of device or object, holding the device securely.
The device or object is well protected and held securely inside the membrane box. The high optical transparency of the box also allows inspection and visual checks without having to open the box.
The membrane boxes are also reusable and come in a wide range of shapes and sizes to suit different object sizes.
Silicon Connection is the authorised distributor of Gel-Pak products. For more than 35 years, Gel-Pak is the leader for innovative solutions that helps companies in safe shipping and handling of technology devices. Gel-Pak products are widely sought after in the semiconductor industry for a wide range of applications.
In recent years, Membrane Box has gained popularity with consumers who use this for multiple uses.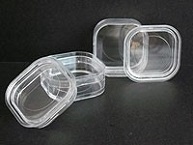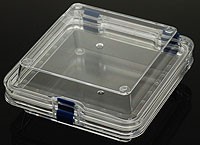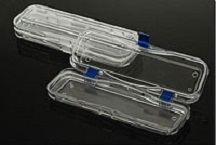 Store your precious collectibles in Membrane Boxes
Check out how other customers are using Membrane Boxes.