Semiconductor processes such as photolithography and wet etch and clean, have become more metal sensitive at advanced process nodes. As a result, extracted metals from chemical delivery systems can cause critical wafer defects that negatively impact process yields.
To counter this negative yield impact, fabs have converted many of their stainless steel fluid handling systems that had been traditionally selected for use with flammable solvents to fluoropolymer systems. The change to fluoropolymers resulted in reduced extracted metals in the process chemicals. However, the increased use of fluoropolymer systems creates new concerns with electrostatic discharge (ESD) in components such as PFA tubing.
Solvents used in the semiconductor industry have low conductivity, which enables them to generate and hold electrical charges. When these solvents are transported in fluoropolymer systems there is a significantly greater risk of static charge generation and discharge due to the nonconductive nature of the fluoropolymer materials and the low conductivity properties of the solvents. ESD generated in fluoropolymer systems that are transferring flammable solvents can create leak paths through the tubing and possible ignition of the surrounding, potentially flammable, solvent-rich environment.
Entegris has developed FluoroLine® ESD tubing with static dissipative PFA stripes on the outside of the tubing.
Charge accumulation that develops on the outside of the tube as a result of fluid flow is redirected to external ground paths by carbon-loaded polypropylene grounding straps. This grounding strap wraps around the ESD tubing and attaches like most cable ties or zip ties. By using a co-extrusion process, the carbon impregnated PFA becomes part of the outside wall tubing that will not peel or flake and contaminate the external environment.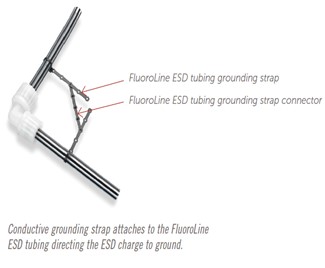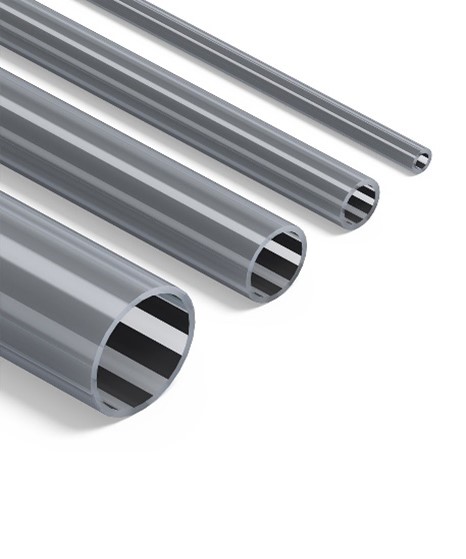 In addition to FluoroLine®, Entegris have further developed the FluoroLine® Plus tubing.
These have conductive PFA stripes on the tube inside diameter.  The manufacturing process of co-extruding ultrapure, conductive PFA and virgin PFA materials creates a smooth, internal surface and eliminates the risk of the conductive stripes delaminating.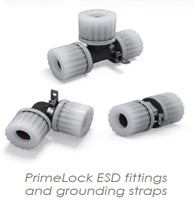 Used in conjunction with FluoroLine® Plus are conductive PFA PrimeLock ESD fittings.
These fittings use a conductive PFA material to create a path to ground when the fitting sealing area contacts the tubing conductive stripes. Specially designed corrosion-resistant stainless steel straps provide secure grounding point  to the ESD fittings ensuring an effective charge dissipation path from the tubing ID  to equipment or facility ground.
Check out our PFA Tubing
Learn more about our range of PFA Tubing by Entegris.