Silicon Connection is the authorized distributor for Entegris™ Bare Die Trays (also known as Chip Trays/ Waffle Packs) in South East Asia.
We provide the widest selection of products to meet your specific bare die and chip scale package shipping and handling needs.
Both of the 2″ and 4″ Bare Die Packages comes in a complete set that includes: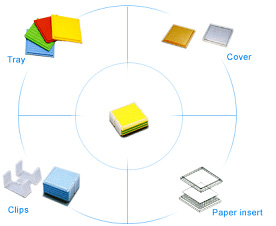 The trays offer excellent protection and handling reliability for:
Known Good Die (KGD)
Wafer Scale Packaging (WSP)
Chip Scale Packaging (CSP)
Flip Chip
Bump Die
Opto electronics
Entegris Tray wizard provides search of over 10,000 different 2″ and 4″ tray from database. In cases where exact requirements of pocket size are required, we would be pleased to assist in custom tooling for our customers.
Chip Tray
Entegris Chip Trays deliver superior protection, operational efficiency and minimizing logistics and storage costs.