We supply Entegris range of Process Wafer Carriers.
Entegris Process Wafer Carriers are specially designed for chemicals to pass through to the wafers evenly and quickly. The carriers have minimum surface area so as to facilitate liquid process chemicals unobstructed access to the wafers. This will enhance automation performance in your facilities.
We offer a wide range of Entegris Process Wafer Carriers in 100mm, 125mm, 150mm, 200mm and more. You can choose from the different specifications and configurations such as Natural PFA, Handles with Lock Bar, Laser Marking.
The natural PFA of the Process Wafer Carriers is high purity process wafer carrier material. The temperature limits for continuous use is 165°C for Process Enhancement Wafer Carriers, 180°C for Traditional Process Wafer Carriers, and for wafer insertion temperature the limit is 250
°C.
Find out how Entegris Wafer Carrier helps improve yield for the semiconductor processes.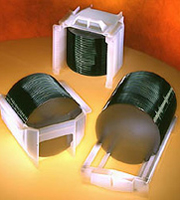 Looking for Wafer Storage Box?
We also offer customisation to tailor Entegris storage boxes to your requirements.